John Davidson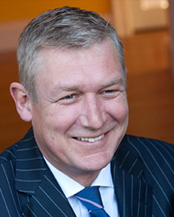 Mr Davidson is a Consultant Orthopaedic Surgeon at the Royal Liverpool and Broadgreen University Hospital NHS Trust where he specialises in treating patients with arthritic hips and knees. He has a special interest in treating complex primary and revision knee replacements. He also specialises in joint replacements for the younger patients and performs more than 200 joint replacements a year in both the NHS and private sector.
Mr Davidson studied for his medical degree in Glasgow and subsequently completed his training in Edinburgh, Birmingham and Liverpool. He undertook a Fellowship in Sydney Australia and had the opportunity to be a visiting Fellow in several joint replacement units in Australia, USA and Europe. He completed his training at Wrightington Hospital in the Arthroplasty Unit (Hip and Knee replacement).
He was appointed as a Consultant Orthopaedic Surgeon in Liverpool in 2001 and was invited to take up an additional role of Clinical Director in 2005.
Mr Davidson is the founder of, and Chairman of the Bone and Joint Centre.
Mr Davidson is frequently invited to talk about his work both nationally and internationally on joint replacement surgery; minimally invasive surgery; management of the younger patient; and new materials and joint replacement techniques.
He was a founder of the Liverpool Bone and Joint Infection Group and has been invited to speak internationally on the management of infected joint replacements. This has resulted in writing a book chapter on the surgical treatment of infected joint replacement with a specialised hydro scalpel tool.
Consultant Information:
Clinic Times: Monday AM/PM (alternate) Wednesday PM, Thursday AM (alternate) Friday (all day)
Consulting Address: Spire Liverpool Hospital, 57 Greenbank Road, Liverpool, L18 1HQ
Telephone: 0151 522 1860
Email: [email protected]

Year of First Medical Qualification: 1989
Current membership(s):  
 British Orthopaedic Society (BOA), British Association of Surgery of the Knee (BASK), British Hip Society (BHS), 
 International Advisory Board for Wound Debridement & Versejet

Current NHS/University Post: The Royal Liverpool and Broadgreen University Hospitals NHS Trust
Positions Held: Medical Director for Cheshire & Merseyside Health
, Lead Medical Director for Service Improvement, Alliance Surgical plc, 
Chairman and founder of the Bone and Joint Centre LLP
, Orthopaedic representative on the Medical Advisory Committee at Spire Liverpool Hospital, 
Surgeon to the Everton former players' foundation.
Selected Publications:
S Davidson, JD Moorhead, SC Montgomery, PH Dangerfield "Measuring the instant centre of rotation in normal and anterior cruciate deficient cadaveric knees"Clinical Anatomy, 1997, Vol 10, Issue 3, p211.
JD Moorhead, JS Davidson, SC Montgomery, PH Dangerfield
 "Measuring the effect of the anterior cruciate ligament (ACL) on the knee's centre of rotation" 4th Congress of the European Association of Clinical Anatomy Surgical & Radiologic Anatomy, Sept 97, p49
Davidson JS, Moorhead JD, Montgomery SC, Dangerfield PH, Cairns C.
"The effect of anterior cruciate ligament reconstruction on the rotational centre pathways of cadaveric knees" Clinical Anatomy, 1998, Vol. 11, Issue 2, p119
Montgomery SC, Moorhead JD, Davidson JS, Lowe D, Dangerfield PH.
"A new technique for measuring the Rotational Axis Pathway of a moving knee" The Knee 1998 vol 5 pp 289-295
Stevenson HL, Scott SJ, Davidson JS, Fisher AC
 "The Evaluation and efficacy of different makes of Gigli Saws" Submitted to Journal of Arthroplasty
Hodgson R, Campbell R, Jakaraddi C, Davidson J & Davies J 
"An MR Protocol for Assessment of Post-Operative Infection in Oxidised Zircomium Knee Arthroplasty." Abstracts of European Society of Skeletal Radiology; Bruges 2006-06-22 Skeletal Radiology 2006; 35:pp466
Laura Tinti, Adam M. Taylor, Annalisa Santucci, Brenda Wlodarski, Peter J. Wilson, Jonathan C. Jarvis, William D. Fraser, John S. Davidson, Lakshminarayan R. Ranganath and James A. Gallagher "Development of an in vitro model to investigate joint ochronosis in alkaptonuria" Rheumatology Advance Access published October 15, 2010
Fountain JR, Jakaraddi C, Pope J, Davidson JS & Santini AJA
 The Effect of Posterior Tibial Slope on Post-Operative Flexion & Functional Outcomes in Total Knee Arthroplasty. A Double Blinded Randomised Conrolled Trial. J Bone Joint Surg (Br) 2010; 92-B:Supp III, 407
Jakaraddi CA, Garcia-Finana M, Neal T, Navin A, Davidson JS & Santini AJA
 In Vitro Elution Characteristics of Gentamicin and Teicoplanin Loaded CNW and Palacos Bone Cements. J Bone Joint Surg (Br) 2010; 92-B:Supp III, 418
Jakaraddi CA, Metikala S, Wright D, Davidson JS & Santini AJA Use of the International Prostate Symptom Score in Predicting Urinary Retention after Total Hip Replacement J Bone Joint Surg (Br) 2008; 90-B:Supp III, 554