Professor Peter Brownson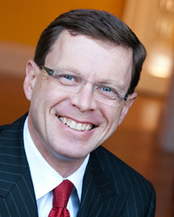 Professor Brownson is recognised nationally and internationally for his expertise in arthroscopic shoulder surgery. He is regularly invited to lecture and carry out live surgical demonstrations at courses across Europe. He is the Upper Limb Surgeon to Liverpool Football Club and in addition treats players from 3 other Premiership Football Clubs. He is regularly asked to provide articles for the National Press.
He studied at Liverpool University and qualified in 1986 (MB ChB). He was elected a Fellow of the Royal College of Surgeons of Edinburgh in 1991 (FRCS Ed), after which he undertook a period of orthopaedic research at Nottingham University. This research involved impact biomechanics as applied to aircraft passenger safety. It culminated in the submission of his doctoral thesis and the award of an DM (the medical equivalent of a PhD). In addition, the research resulted in him being awarded an Honorarium in the Syme Professorship at the Royal College of Surgeons of Edinburgh in 1993 and the crash brace position proposed, was subsequently adopted by the Civil Aviation Authority, for use on passenger aircraft.
Professor Brownson continued his orthopaedic training in Nottingham, during which time he acquired extensive experience in trauma surgery working at the Queens Medical Centre. He obtained the specialist fellowship in trauma and orthopaedic surgery in 1996 (FRCS Orth). He completed his training with his appointment as the Shoulder Fellow in the Nottingham Shoulder and Elbow Unit where he acquired sub specialist skills in all aspects of shoulder and elbow surgery.
In 1998 Professor Brownson was appointed as a Consultant Orthopaedic Surgeon in Liverpool since when he has been instrumental in helping to establish the Liverpool Upper Limb Unit as a centre of excellence.
On a personal level, he has achieved both a national and international reputation as being at the forefront of arthroscopic (keyhole) surgical techniques. In recognition of this, he was awarded the Travelling Fellowship of the British Elbow and Shoulder Society in 2002. He continues to be actively involved in upper limb research and he has published a number of articles on upper limb related topics. He is an editorial reviewer for the Journal of Shoulder and Elbow Surgery. He is the Course Director of the Liverpool Advanced Shoulder Arthroscopy Course which is one of the largest courses of its type outside of the United States and he is the Course Co-Director of the AO Liverpool Shoulder and Elbow Trauma.
Professor Brownson is married with two children. He enjoys sailing, cycling and skiing.
Consultant Information:
Clinic Times: Thursday AM, Friday AM
Consulting Address: Spire Liverpool Hospital, 57 Greenbank Road, Liverpool, L18 1HQ
Telephone: 0151 522 1860
Email: [email protected]
Website: www.liverpoolshoulderclinic.com
Year of First Medical Qualification: 1986
Current membership(s): British Orthopaedic Association
British Elbow and Shoulder Society 
Current NHS/University Post: The Royal Liverpool and Broadgreen University Hospitals NHS Trust
Selected Publications:
A Modified Crash Brace Position for Aircraft Passengers.
Brownson P, Wallace W A, Anton D J.
Aviation, Space & Environmental Medicine, vol 69 no 10 October 1998 975-978.
Fractures of the Distal Radius in Goalkeepers.
Boyd K, Brownson P, Hunter JB
The British Journal of Sports Medicine 2001:35; 409-411
Clavicular hook plate for lateral end fractures – A prospective study.
Meda KP, Machani B, Brownson P, Frostick SP, Braithwaite I, Sinopidis C
Injury 2006 Mar;37(3):277-83
Arthroscopic stabilisation of the shoulder: a prospective randomised study of absorbable versus non-absorbable suture anchors.
Tan CK, Guisasola I, Macchani B, Kemp G, Sinopidis C, Brownson P, Frostick SP
Journal of Arthrsocopy and related research 2006 Jul; 22 (7): 716-720.
A kinematic assessment of normal elbow movement in activities of modern day living.
Sinha A, Nazar MA, Moorhead J, Bhalaik V, Brownson P
Shoulder & Elbow April 2010, volume 2, Issue 2, pages 118-123
Daily Mail – Good Health 
What those creaking joints really mean.
Published: 28 Sept 2010