Latest News & Blog
BASK Annual Scientific Meeting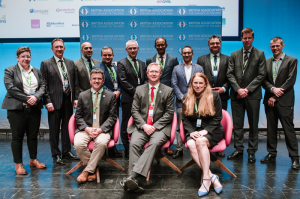 The British Association for Surgery of the Knee (BASK) held their annual scientific meeting in Newport, South Wales on 17th and 18th May 2022. It was the first face-to-face meeting since 2019.
Alasdair Santini was part of the organising committee in his role as Treasurer of BASK. The meeting was well received, showcased a large number of research projects, group discussions, keynote septettes and allowed industry to demonstrate their products
Alasdair Santini moderated a session on return to work after the COVID-19 pandemic including a group discussion on surgical options in patients who had deteriorated due to long waiting times. He also presented the accounts of BASK at the AGM. The research group that is involved in presented two podium and two poster presentations on various aspects of the histopathological analysis of synovium in osteoarthritis of the knee. All four were well received. Part of this work has been accepted for publication The Knee journal.
Next years meeting will be in London in May 2023 in a joint meeting with the knee societies of Australia, New Zealand and South Africa. The next BASK supported meeting will be at The British Orthopaedic Association's annual meeting in Birmingham in September.